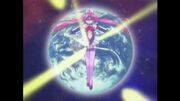 The introductory sequence shows Poemy fighting shadowy figures of various other magical girls such as Usagi Tsukino from Sailor Moon, Tickle from Majokko Tickle, Utena from Revolutionary Girl Utena, Megu and Non from Majokko Megu-chan, Mahoro from Mahoromatic,Sakura Kinomoto from Cardcaptor Sakura, and the considered first magical girl in Japanese animation, Sally, from Sally, the Witch.
At the start of a new school year the over-energetic Poemy Watanabe is introduced, along with her adoptive parents Nabeshin and Kumi-Kumi. Poemy rushes to the school to be the first there, at the same time she repeatedly proclaims her desire to become a successful voice actress. At the school, Poemy's best girl friend, Futaba Aasu, is presented as Poemy's biggest supporter and in fact perennially sexually attracted to her. Back from school, Poemy and Futaba realize the horror of finding Poemy's parents and their robot dog crucified by Alien #1, an extraterrestrial assassin with peculiar genitalia. Her home destroyed, Poemy moves in with Futaba and her six sisters. Later, a massive alien robot attacks the city, whereupon it turns out that Futaba and her sisters are actually a secret team of super-powered heroines dedicated to defending the Earth, also known as Sol III. Unfortunately, the Aasu sisters' magic is strictly defensive, so they are unable to defeat the rampaging robot. Meanwhile, Poemy obtains a talking, magic fish that when used as a magic wand transforms her into Puni Puni Poemy, a powerful magical girl. After the typical transformation, however, she promptly throws away her wand, forgoes the use of magic, and attacks the robot with her bare hands. 
*Parodies:Sailor Moon and other magical girl anime
Community content is available under
CC-BY-SA
unless otherwise noted.